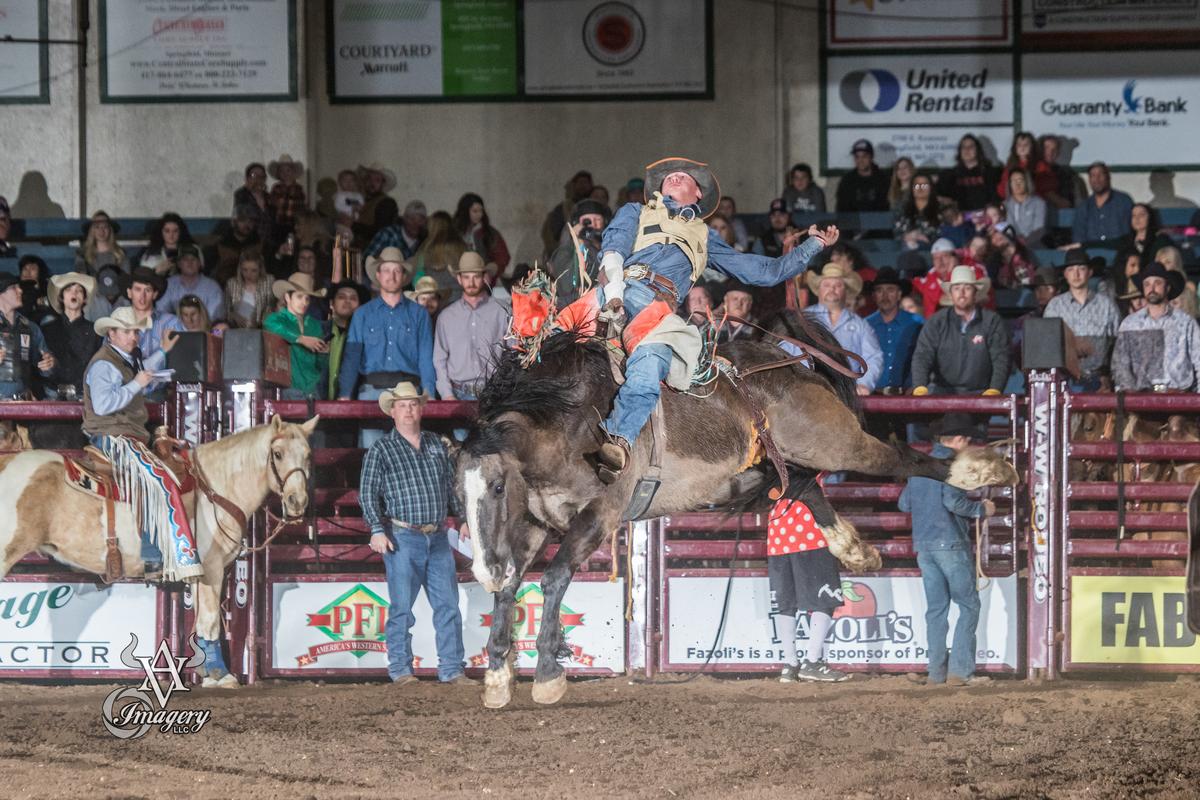 2019 is the 7th year that the Ozark Empire Fair has included a PRCA Rodeo to its stellar line up of activities.
This rodeo has grown to be a favorite on many fronts of the rodeo community. Big Rafter Rodeo had made this event a spotlight of their season and enjoys every step to be a part of the grand event. Within the competitor ranks, numerous top end rodeo athletes set their schedule so they can be a part of all the fanfare and hype that go into this terrific two days of action.
The biggest portion of success to this event comes with the massive fan support. As has become a tradition the Friday night action was near sold out and Saturday evening was essentially standing room only.
The crowd was treated to two nights of amazing action, on night 1 Bareback riding saw Bryce Sifford and D9 Loretta team up for 70 points, in the Steer Wrestling Bob Loosenort and Chancey Larsen tied at 4.1 seconds. Team Roping was topped by Bob Loosenort and Kadin Boardman at 7.2 seconds, in Saddle Bronc Weston Pierschbacher set the pace with a 72.5 on 548 Gun Smoke. Bob Loosenort found himself again on the top of the leaderboard by going 9 seconds flat in Tie Down Roping while Ellie Owens was fastest in Barrel Racing. In Bull Riding, Coy Pollmeier set the pace for the evening with 80.5 on 520 Indigestin.
Night 2 did not fail to provide as much energy inside Corwin arena. The night win and the overall rodeo win in Bareback came when Tanner Phillips went 79 points on Vegas Confused. In Steer Wrestling Jake Johnson and his 4.3 took the top spot for the night and finished 3rd overall. The top team roping team was Bryce Crites and Jake Clay with a 5.2-second run which won the night and the rodeo. World Champion Bull Rider and Rough Stock cowboy Shane Proctor pulled an 80 point ride in Saddle Bronc on Gin N Tonic for the high marked ride of the evening which also awarded him the win for the event. In Tie Down Roping Luke Madsen tied night 1 winner Bob Loosenort at 9 flat, this awarded Luke the top time for the night and the tie for the win. In Barrel Racing Hollie Etbauer burned up the arena with a smoking 13.46 second run for the top time of the night and the rodeo win. In Bull Riding Fulton Rutland wowed the crowd with an impressive 84 point ride on Blue Moon.
Two nights of rodeo, two great crowds, some impressive names of rodeo competitors and some of the rankest stock in the industry. This is a recipe for great rodeo success. The Big Rafter team enjoyed the 2019 Ozark Empire PRCA Pro Rodeo and is already looking forward to 2020!