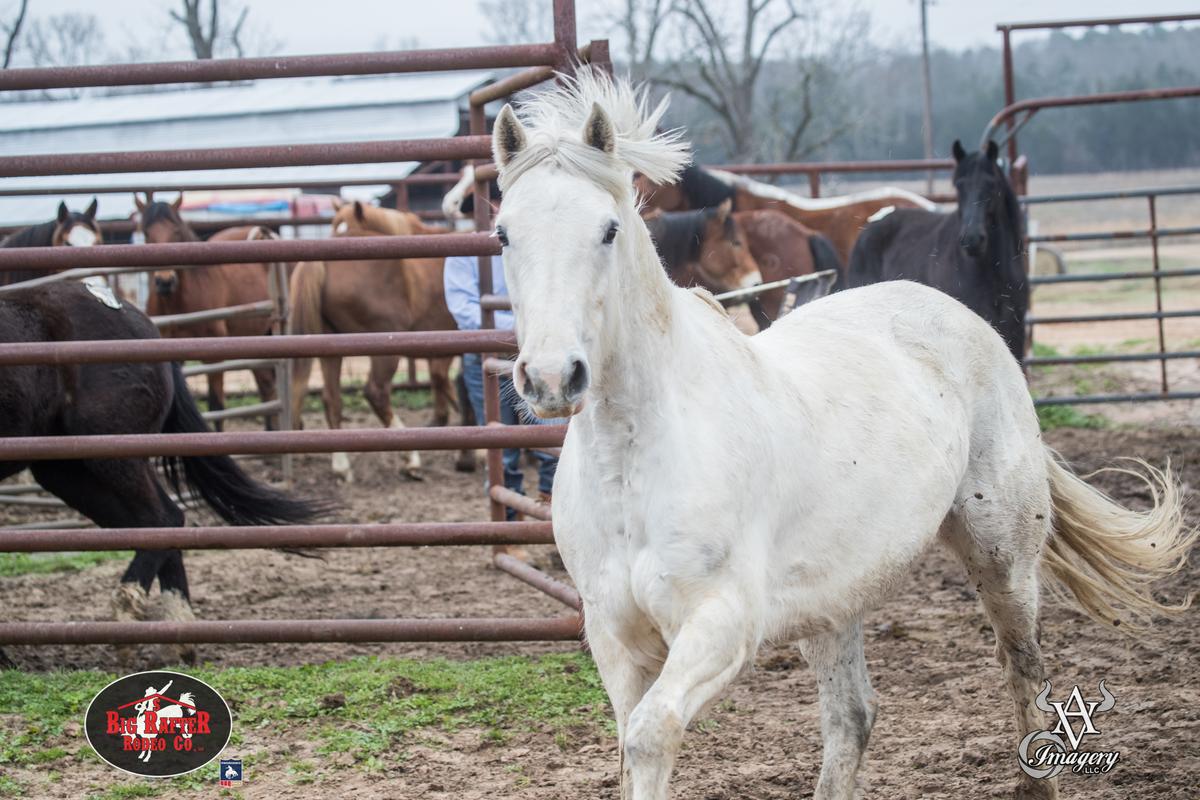 The time Big Rafter Rodeo spent at Rodeo Houston proved to be worth every minute.
Just a few short months ago Big Rafter Rodeo received the call that their assistance in providing stock for one of the biggest rodeos of the year was requested. As with any big rodeo getting a call like this is both an honor and an opportunity.
Big Rafter loaded up their A string of bucking horse on March 3rd and made the semi-short trek to NRG stadium. At no point was there ever any in any of the Big Rafter teams minds about how well the animal athletes would perform and perform did they!
Round 1 had a set of great Bareback matchups with Trenton Montero drawing #907 Moon Fire, Blade Elliott drawing #753 Dirty Jeans and Tyler Nelson with #316 Over the Top. In Saddle Bronc Dawson Hay matched up with #773 Nut Cracker while Bradley Harter and #305 Magic Wars and Colt Gordon #973 Indian Summer battled it out.
The entire round was a list of highlights for the Big Rafter team which cumulated in Dawson Hay winning the round on #773 Nut Cracker with an impressive score of 85 points. This 85-point score is one of the 2 scores that has him winning second in the Super Series.
Round 2 also saw some impressive matchups to include Trenton Montero on 01 Mrs. Julian in Bareback in Saddle Bronc Colt Gordan did battle with 4715 Pearl while Stetson Wright matched up with 308 Vegas Confused. Trenton Montero went on to score an 82 on Mrs. Julian, Stetson Wright managed an 80 point ride on 308 Vegas Confused.
Round 4 Put Minnie Pearl and Taylor Broussard together as well as Rusty Wright and Marie Laveau aka Damaged Goods, during this round a major shift in power seemed to take place as Rusty Wright and Marie Laveau teamed up for a monster score of 91 points and set the NRG stadium on fire.
The closing round for the Big Rafter Rodeo trip to Houston was just as exciting as the start. Bill Tutor matched up with the stand out Bareback Horse 01 Mrs. Julian while Kody Lamb and 907 Moon Fire got together, and finally, Taylor Broussard and 753 Dirty Jeans did battle. In Saddle Bronc Cort Scheer and 4715 Pearl, Cody Demoss and #773 Nut Cracker, Joey Sonnier and #305 Magic Wars, Lefty Holman and 1E2 Push Play matched up. As the dust settled on the last night of competition the Big Rafter Rodeo team elevated to an even higher level.
Lefty Holman and Push play combined for the round win and a great score of 86 points while Joey Sonnier and Magic Wars came in a close second at 85 points.
What a great time was had in Houston, as the hauler pulled away Big Rafter supplied 3 round winners, currently one of the top two scores in Saddle Bronc at Rodeo Houston and numerous cowboys cashing checks thanks to our animal athletes.
The next Big Rafter Rodeo stop will highlight the bovine, we will be in Poplar Bluff on March 15th and 16th for the Bulls and Bands event at the Black River Coliseum, we hope to see you there.